What is Free Lunch Academy?
Free Lunch Academy is an artistic outreach program that is dedicated to deterring violence, diminishing bullying, and mentoring students through the use of performance arts.
Our programs are designed to both entertain and educate students on various methods that can be used to safely resolve issues of anger, resentment and threats of violence.
We seek to mutually benefit school administrators, parents, and students through our interactive violence prevention showcases that highlight real issues that plague today's youth in a thought-provoking manner.
Our goal is to raise social awareness, increase classroom productivity, and create safer learning environments for every student in Chicago and beyond.
Together, we can take back our classrooms.
Free Lunch Academy was founded in October of 2012 by Executive Director Calvin King, who sought to provide students in Chicago with the necessary tools to safely mediate the occurrence of violence and bullying related behavior that is too often experienced in classrooms.
This dedicated father of two is passionate about promoting inclusive environments for all to learn, work and grow within through the use of character development, leadership skills, healthy decision making and positive relationships.
Our values are centered around providing All Students with Education on the highest level while developing their unique Artistry through a Mutual Respect approach that fosters Community.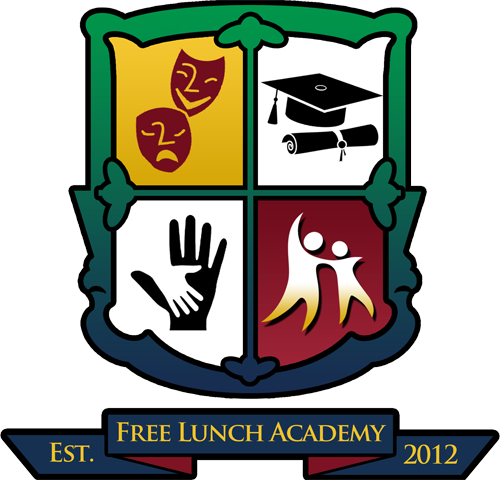 "Be A Buddy Not A Bully" is a multi media stage performance centered around Anti-Bullying techniques and aimed at inspiring today's youth. "Be A Buddy Not A Bully" takes a refreshing interactive – approach to focusing on the coming of age issues experienced by most students attempting to balance the pressures of school, home and social life while on a roller coaster ride of self discovery. "Be A Buddy Not A Bully" is a must see for any student; be it a bully, a victim, or the all too common bystander.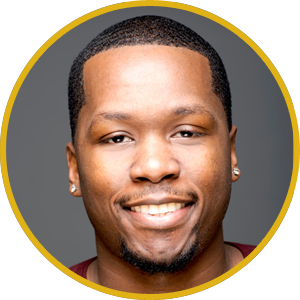 Calvin Evans
as
Billy the Bully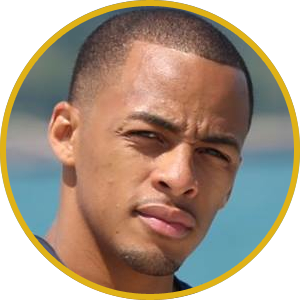 Calvin King
as
Targét the Victim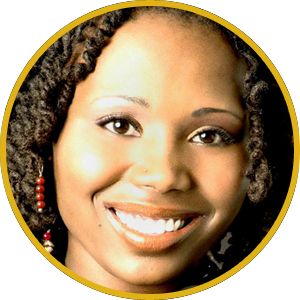 SaLesha Mason
as
Dean Smiley
Britni Moore
as
K'Shelley the Bystander

Be A Buddy Not A Bully (Customizable for PreK – 8th Grade Students)
"Be A Buddy Not A Bully" is a multi media stage performance centered on anti-bullying techniques and aimed at inspiring today's youth. "Be A Buddy Not A Bully" takes a refreshing interactive approach to focusing on the coming of age issues experienced by most students attempting to balance the pressures of school, home and social life while on a roller coaster ride of self discovery. "BABNAB" is a must see for any student; be it a bully, a victim, or the all too common bystander.
Cyber Buddies (Ideal for Students 5th Grade & Up)
"Cyber Buddies" is a multi media stage performance, which aims to inspire youth and adolescents towards positive digital citizenship. "Cyber Buddies" explores the decisions young people make when it comes to social media, smart phones and other technical devices. What is more, "Cyber Buddies" also explores the lasting impact these decisions have on our students, their peers and society as a whole.
Quite The Character (Student Workshop Series)
Following (or preceding) a live stage performance schools can take advantage of our weekly follow up workshops entitled, "Quite The Character." During this four-part series, taking place during the designated lunch hour, students will learn about conflict resolution, peer mentorship and restorative justice practices. Students completing this program will earn the title of "Free Lunch Academy Ambassadors."
Books. Bullies. & Broadway. (After School Program)
School communities looking to take advantage of a comprehensive after school program that provides tutoring, mentoring and performing arts enrichment for students of all ages need should seriously consider Books. Bullies. & Broadway (3Bs). This one of a kind after school experience not only provides supplemental academic support and social emotional learning opportunities, but it also empowers students to become the star of the show by creating original stories of trials and triumphs. Through literacy enrichment, script writing basics, and public speaking and more students involved in the 3Bs program can expect to see gains in self-esteem and leadership capabilities as well as an increased demonstration of mutual respect and conflict resolution skills resulting in more purpose driven decision making. The 3Bs after school program culminates in an end of the term stage performance written, directed, produced and exclusively starring Books. Bullies. & Broadway participants.
Recess (Parent & Educators' Workshops)
Free Lunch Academy offers a performance infused professional development presentation aimed at increasing one's ability to provide students with on-going support and resources regarding bullying awareness, prevention and interventions.
"Peers who witness bullying may become fearful of being victimized and can be preoccupied with safeguarding their own status within the peer group."
— Salmivalli, 2010

Students who have been both bullied and have bullied others have been identified as demonstrating the worst outcomes in terms of psychosocial adjustment, as compared to either group alone."
— Kelly et al., 2015

"Children who chronically bully others also are more likely to exhibit other forms of aggression and engage in delinquent and criminal offenses."
— Renda, Vassallo, & Edwards, 2011; Ttofi et al., 2011

"Children subjected to bullying experience compromised academic achievement."
— Juvonen, Yueyan, & Espinoza, 2011

"Children subjected to bullying generally suffer high levels of depression and related internalizing problems such as social anxiety."
– Reijntjes et al., 2010

"Children cannot get a quality education if they don't first feel safe at school."
– Arne Duncan, U.S. Secretary of Education

"160,000 kids per day do not attend school for fear of being bullied."
-U.S. Dept. of Justice

In 2014, the Centers for Disease Control and Department of Education released the first federal uniform definition of bullying for research and surveillance. The core elements of the definition include: unwanted aggressive behavior; observed or perceived power imbalance; and repetition of behaviors or high likelihood of repetition.

The majority of bullying still takes place at school; 1 in 3 U.S. students say they have been bullied at school, according to the DHHS.

More than one third of adolescents reporting bullying report bias-based school bullying (Russell, Sinclair, Poteat, and Koenig, 2012).

81.9% of students who identify as LGBTQ were bullied in the last year based on their sexual orientation (National School Climate Survey, 2011).

64% of students enrolled in weight-loss programs reported experiencing weight-based victimization (Puhl, Peterson, and Luedicke, 2012).

70.6% of young people say they have seen bullying in their schools.

70.4% of school staff have seen bullying. 62% witnessed bullying two or more times in the last month and 41% witness bullying once a week or more.

64 percent of children who were bullied did not report it; only 36 percent reported the bullying (Petrosina, Guckenburg, DeVoe, and Hanson, 2010).

When bystanders intervene, bullying stops within 10 seconds 57% of the time.

School-based bullying prevention programs decrease bullying by up to 25% (McCallion and Feder, 2013).
Upcoming Events & Shows
To Date Free Lunch Academy has partnered with over 150 Chicago Public Schools, Park Districts, Community Based Organizations, Faith Based Entities, National Brands and more to provide educational entertainment, social emotional artistic learning and creative employment opportunities to over 30,000 youth and young adults. Thank you for your support!

Black McDonald's Operators' Association X Free Lunch Academy are at it again!!!
In their respective and collective quests to educate, uplift and empower their community, these two power houses have joined forces once again to launch the highly anticipated Tolerance Is Greater Tour pt. 2 (Tolerance > Tour II). Twenty (20) select schools throughout the greater Chicagoland area will receive a potentially live changing stage experience for their students as the Free Lunch Academy cast helps bring the teaching of the late great Dr. Martin Luther King Jr. to life right before their eyes.
Following the performance, participating school communities will be given the opportunity to enter in The King & I Creativity Competition where students can submit poems, photos and/or posters aimed at detailing how they exemplify the various teaching of Dr. King in today's contemporary setting. Each school community will have two finalists selected. Runners up will have their work of art displayed in their local participating BMOA location while the twenty first place winners will be honored at a pop up art exhibit which displays their winning submissions for the entire community to enjoy.
Black McDonald's Operators' Association X Free Lunch Academy = Tolerance > II – Coming This January – March.
Combat Bullying Through Careers
Since the summer of 2015, Free Lunch Academy has offered inclusive, innovative, industry neutral workforce development programming services for youth, young adults and businesses who value creativity. Through education, training, mentorship and more, Free Lunch Academy combines emerging industry best practices, subject matter expertise and real world applications within the Creative Economy and well beyond. Free Lunch Academy has successfully partnered with One Summer Chicago, Illinois' Department of Human Services (DHS) and most recently the Illinois Criminal Justice Information Authority (ICJIA) to provide hundreds of at-risk youth with job, career and entrepreneurial skills and training centered around ethics, character development, leadership, purpose driven decision making and professional relationship building. Through this innovative approach to workforce development, Free Lunch Academy has established a high functioning network of employees, employers and up and coming entrepreneurs that posses a healthy blend of morals, empathy and collaboration towards common short and long term goals. To date, Free Lunch Academy Ambassadors boast a placement rating of over 95% with an 85% retention average after six months of employment. Free Lunch Academy's network of businesses include small-medium through enterprise sized entities in the multimedia, entrainment, health and wellness, professional services, home improvement, manufacturing, logistics and hospitality industries. To witness Free Lunch Academy's youth in action, please click on the video below and be sure to like, share and leave comments.